Dessert First! is contemporary portrait and documentary photographer Hanna Quevedo's debut photobook and compiles Quevedo's often self-reflective, gloriously grainy, color film images from nine years that she spent in the US exploring and encountering varieties of weirdness, beauty, and freedom.
"This artists book is beyond stacked, 100% recycled paper, screen printed cover, neon-orange hand-sewn elastic enclosure, two custom stickers, and over 128 stunning images by the one and only Hanna Quevedo".
Buy it in the USA and CANADA at:
www.burnbarrelpress.com/product/dessert-first-by-hanna-quevedo
For Latin American, European and Asian orders:
https://hydra.lat/products/dessert-first-hanna-quevedo
Dessert First!
is a co-edition between
#Inframundo
and
#BurnBarrelPress.
INFRAMUNDO is a collective project created in Mexico by
@anacasasbroda
and
@ramon.pez
based on the intersection of experiences to build photobooks with different narrative tools, hybrid production and collaborative practices. He has published, among others,
#Oscurana
by the film director and photographer of
@magnumphotos
@antoinedagata
and # Mictlán by Joan Fontcuberta, artist, teacher, essayist, critic and art promoter specialized in photography.
BURN BARREL PRESS supports projects focused on personal experiences and visual stories about the decadent society in which we live. Created by
@beaupatrick
and based on
#NuevaOrleans
B.B.P. seeks to help our communities tell their own stories and aims to produce high-quality art books, sharing narratives, often underrepresented, that provide hope and inspiration in these often discouraging times. Their published books include
#SidewalkChampions
by photographer, activist and advocate for the rights of all unhoused individuals people
@suitcase_joe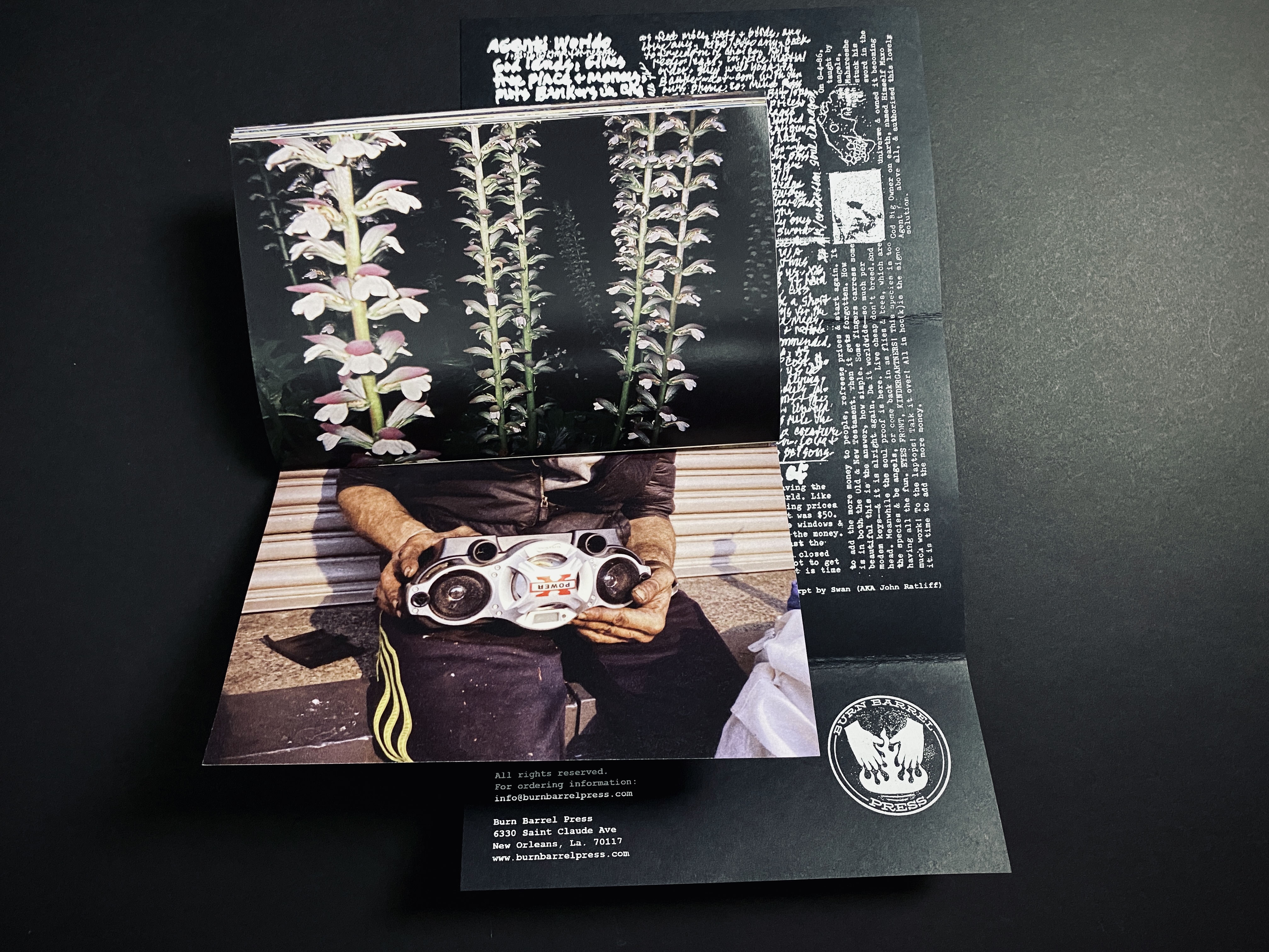 This photobook-objet was created thanks to be part for over a year of the "Hydra Photobook Incubadora Program" working with

Ramon Pez, Artistic director and designer (Italy)
Juan Valbuena | Author and Publisher PHREE (Spain)
Yumi Goto | Editor, Reminders Strongholm Photography (Japan)
Erik Kessels | Author, Publisher at Kesselskrammer (Holland)
Bruno Ceschel | Publisher at Self Publish Be Happy (England)
Jamie Allan Shaw | Designer (England)
Ninfa Alvarado y Sol Martínez | Bookbinders (México)
The educational program INCUBADORA DE FOTOLIBROS acoompanies each year a group of authors for more than 12 months in the conceptualization, development and production of a photobook project through workshops woth 6 to 12 editors, curators, authors and designers from Mexico and other countries. It is specialized, comprehensive and a new program in the field of photobooks in Mexico, and provides an overview of this fertile medium, offering creators the opportunity to work with those who have developed some of the most interesting publishing projects at an international level in recent years.
"Developed from over than nine years, this book captures the spirit of the author, whose choices as a person and as a photographer lead her to choose a nomadic life, where she gets involved with various social and political causes, and shares experiences with characters related to her, many of them artists and activists who live on the outskirts of society. Her analog images, rebels and accomplices with her portrayed, and take us with her to a special United States tour next to those who choose to live on the margins, fight for personal and social causes, who decide to have an alternative and adventurous life. Hanna is not a stranger who passes through these places, she inhabits them and shares and spend time with their inhabitants, companions on the journey of a life full of unique subjects, full of interesting stories and unique experiences".
There is no single America. It's a country of contradictions, a country of multitudes. Hanna's book beautifully showcases the wonder, the strangeness, the terror, the joy, the pain, the heartbreak, and the triumph of this confusing place. Her photos tell stories of people trying to find their place and make sense of a country that has forever been undefinable. It's a glorious collection of work.
Chris Hrasky, drummer of Explosions in the sky.
Tremendously deep, both in aesthetics and in the satirical and critical gaze that these trips involve. Certain photos take me to simpler moments, in the midst of the current revolution that we are living through.
Nicola Cruz, DJ/compositor.
Hanna's new book is exhilaratingly unique and original, captivating with raw untold stories that grace the viewer in beautifully juxtaposed arrangements. Seeing all of this diverse life experience celebrated as I flipped each page brought a fresh perspective and excitement to see what would come next. A clear master of capturing the candid, I hope this book is seen far and wide as a capsule of the era we're living in, a portrait of our time
.
Rob Woodcox, photographer.
Hanna's photos are visceral and tender, stark yet full of heart. This book has a stirring play between what's missing/what's felt to what's right there squarely gazing back at you. A traversed glimpse into the beauty, the joy, the pain, and the hope all around us
.
Angela Deane, painter.
Hanna Quevedo's recent photos magically convey both an intimate and simultaneously voyeuristic look over both urban and rural life and the comparisons and contrasts between the two. They're a disquieting reminder of the beauty and elegance of all of our daily lives that quite unnoticeably bind us together.
Calamity Fair, collage artist.
(Spanish)

INFRAMUNDO es un proyecto colectivo creado en México por Ana Casas Broda y Ramón Pez basado en la intersección de experiencias para construir fotolibros con diferentes herramientas narrativas, producción híbrida y prácticas colaborativas. Ha publicado, entre otros,

Oscurana

del director de cine y fotógrafo de M

agnumphotos

A

ntoine D´agata

y

#Mictlán

de Joan Fontcuberta, artista, docente, ensayista, crítico y promotor de arte especializado en fotografía.


BURN BARREL PRESS apoya proyectos centrados en experiencias personales e historias visuales sobre la decadente sociedad en la que vivimos. Creada por Beau Patrick Coulon y con base en

Nueva Orleans

B.B.P. busca ayudar a nuestras comunidades a contar sus propias historias y su objetivo es producir libros de arte de alta calidad, compartiendo narrativas, a menudo subrepresentadas, que brindan esperanza e inspiración en estos tiempos, frecuentemente, desalentadores. Entre sus publicaciones está

Sidewalk Champions

del fotógrafo, activista y defensor de los derechos de todas las personas sin hogar

Suitcase

Joe.



Este libro-objeto se creó gracias al trabajo de más de un año en el programa de Incubadora de Fotolibros de Hydra trabajando con:

Ramon Pez | Director artístico y diseñador (Italia/España)
Juan Valbuena | Autor y editor PHREE (España)
Yumi Goto | Editora, Reminders Strongholm Photography (Japón)
Erik Kessels | Autor, editor Kesselskrammer (Países Bajos)
Bruno Ceschel | Editor de Self Publish Be Happy (Reino Unido)
Jamie Allan Shaw | Diseñador (Reino Unido)
Ninfa Alvarado y Sol Martínez | Encuadernadoras (México)



El programa educativo INCUBADORA DE FOTOLIBROS cada año acompaña durante más de 12 meses a un grupo de autores en la conceptualización, desarrollo y producción de un proyecto de fotolibro a través de talleres con 6 a 12 editores, curadores, autores y diseñadores de México y el extranjero. Es un programa especializado, integral y nuevo en campo del fotolibro en México, que brinda un panorama sobre este fértil medio, y nos ofrece a lxs creadorxs la posibilidad de trabajar con quienes han desarrollado algunos de los más interesantes proyectos editoriales a nivel internacional en los últimos años.
https://aperture.org/pbr/the-photobook-review-issue-020/


"Desarrollado a lo largo de más de nueve años, este libro recoge el espíritu de la autora, cuyas elecciones como persona y fotógrafa la llevan a elegir una vida nómada, donde se involucra con diversas causas sociales, políticas, y comparte experiencias con personajes afines a ella, muchos de ellos artistas y activistas que habitan las periferias de la sociedad.

Sus imágenes análogas, rebeldes y cómplices con sus retratados, nos llevan con ella a recorrer un Estados Unidos especial, de aquellos que eligen vivir en los márgenes, luchar por causas personales y sociales, que se deciden por una vida alternativa y aventurera. Hanna no es una extraña que pasa por estos lugares, los habita y comparte el tiempo pasar con sus habitantes, compañeros del recorrido de una vida llena de sujetos únicos, cargados de interesantes historias y experiencias singulares"


No hay un solo Estados Unidos. Es un país de contradicciones, un país de multitudes. El libro de Hanna muestra implacablemente la maravilla, la extrañeza, el terror, la alegría, el dolor, el desamor y el triunfo de este confuso lugar. Sus fotos cuentan historias de personas que intentan encontrar su lugar y darle sentido a un país que siempre ha sido indefinible. Es una gloriosa colección de trabajos.

Chris Hrasky, baterista de Explosions in the sky.
Tremendamente profundo, tanto en la estética como en la mirada satírica y crítica que implican estos viajes. Algunas fotos me llevan a momentos más simples, en medio de la revolución actual que estamos viviendo.

Nicolá Cruz, DJ / compositor.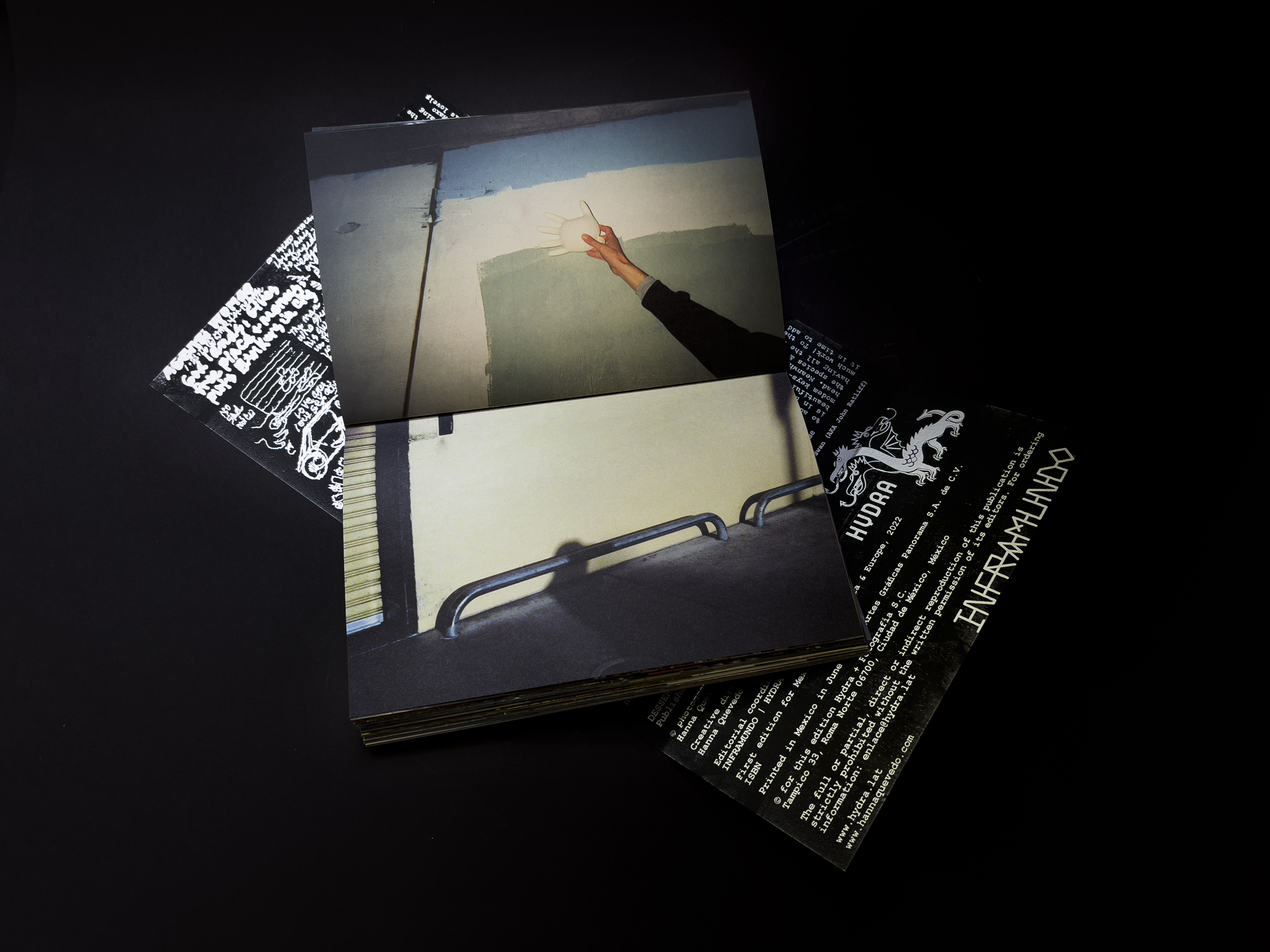 El nuevo libro de Hanna es estimulantemente único y original, cautivante con historias crudas no contadas que regala al espectador preparativos bellamente yuxtapuestos. Ver toda esta diversa experiencia de vida que se celebra, mientras paso cada página, me brinda una nueva perspectiva y emoción por ver lo que vendrá después. Una clara maestra en la captura de la franqueza, espero que este libro sea visto a lo largo y ancho como una cápsula de la era en la que vivimos, un retrato de nuestro tiempo.
Rob Woodcox, fotógrafo.
Las fotos de Hanna son viscerales y tiernas, crudas pero llenas de corazón. Este libro tiene un juego conmovedor entre lo que falta / lo que se siente y lo que está ahí mirándote directamente. Una mirada a la belleza, la alegría, el dolor y la esperanza que nos rodea.
Angela Deane, pintora.


Las fotos del libro de Hanna Quevedo transmiten mágicamente una mirada íntima y simultáneamente voyeurista sobre la vida urbana y rural, y las comparaciones y contrastes entre las dos. Son un inquietante recordatorio de la belleza y la elegancia de toda nuestra vida cotidiana que nos unen de manera imperceptible.
Calamity Fair, artista de collage.


Interview about my book: https://

www.35mmc.com/08/09/2021/dessert-first-film-cameras-and-sentiment-in-my-new-photobook-by-hanna-quevedo/